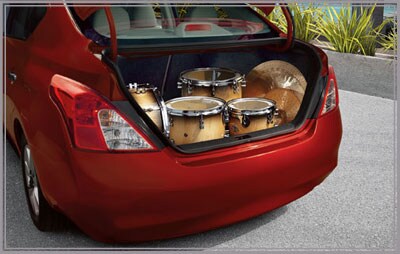 2012 NISSAN VERSA CONTINUES TO OUTPACE COMPETITION IN DECEMBER SUB-COMPACT SEGMENT SALES AND SHARE
- With Nearly 10,000 Sales, Versa Dominates Sub-Compact Segment Once Again-
Whether you look at total sales or market share, the 2012 Nissan Versa continues to dominate the hotly contested U.S. sub-compact segment.
For the month of December, the 2012 Nissan Versa's sales of 9,939 nearly doubled those of the nearest competitors - representing a 24.2 percent share of the market among 13 segment nameplates. Spurred by the success of newly introduced, all-new 2012 Versa Sedan, Versa also set an all-time annual sales record of 99,730 for calendar year 2011.
The Nissan Versa's primary competitors are the Chevrolet Sonic, Hyundai Accent, Honda Fit, Toyota Yaris, Ford Fiesta, and the Fiat Fia.
"The new Versa Sedan has hit a sweet spot with sub-compact buyers, offering the most legroom, most headroom and most trunk room per dollar, along with the lowest starting M.S.R.P. in America of just $10,990 USD," said Al Castignetti, vice president and general manager, Nissan Division, Nissan North America, Inc. "It's great to be the vehicle that everyone is chasing - though with standard Versa Sedan innovations such as its dual injector system that burns cleaner and uses less fuel than a conventional injector design, and its smooth, efficient next-generation continuously variable transmission, we don't foresee the gap closing anytime soon."
The Versa Sedan delivers 30 miles per gallon in the city and 38 mpg on the highway. In the all-important EPA rating for combined fuel economy - the most relevant to consumers - Versa delivers 33 miles per gallon.
Click Here
and View our Versa Selection