A Trusted Nissan Collision Center in Matteson, IL
Nissan Collision Center in Chicago
Hawkinson Nissan has been in business for over twenty-five years, so we know a thing or two about maintenance for Nissan vehicles. We also understand how important vehicle maintenance is, which is why we recommend using only high quality, genuine Nissan replacement parts.
In our years in business, we've also learned a few things about collision damage repair. Over time, we've developed trusted partnerships with many of the best auto repair facilities in Matteson and the surrounding Chicago region. We've seen the high quality of their work, the awards they've received and heard raving reviews from Hawkinson Nissan customers who used their collision repair services.
The best part of working with each of these shops is they share Hawkinson Nissan customer philosophy: treat customers the way they like to be treated, and they will become customers for life.
Our relationships with these auto body shops means you get top notch customer service and outstanding collision repair for your Nissan vehicle.
It's like having a collision center right here at Hawkinson Nissan!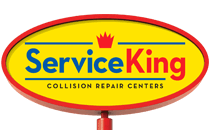 Service King
Service King is one of the largest multi-location operators of collision repair facilities, dedicated to offering customers an overall superior service experience. Founded in 1976 in Dallas, Texas, Service King is a leader in the collision repair industry, currently serving customers at more than 250 locations in 23 states. In Illinois and Northwest Indiana, Service King serves customers at 37 locations.
Phone: 866-730-KING (5464)
Website: ServiceKing.com
---
Gerber Collision & Glass
Whether you need our collision auto body repair services or auto glass repair and windshield replacement work, we will ensure that the repair is done right the first time. At Gerber Collision & Glass, our company philosophy is simple: "WOW Every Customer... Be the Best".
Phone: 877-743-7237
Website: https://www.gerbercollision.com/
---
ABRA Auto Body & Glass
Accidents can be nerve-wracking. Getting back on the road doesn't have to be. When you turn to the collision repair experts at ABRA Auto Body & Glass, you'll quickly be back on the road home, with the peace of mind knowing your auto body repair met the highest safety standards. All repairs are backed by a national lifetime warranty. From major structural collision repair to paintless dent repair for hail damage or door dings, we are ready to take care of you at any of our conveniently located repair centers throughout the greater Chicago area.
Phone: 888-872-2272
Website: http://abraauto.com/