Hawkinson Nissan in the Community
As a local business we get involved with many things other than selling cars.
Letters of Appreciation
Teacher Appreciation Event Letter
Bob Hawkinson recently received a personal letter from the Superintendent of Schools for his recent donation to all the staff members of Matteson Elementary School District 159 for Teacher Appreciation week.
Barbara Suggs Mason writes:
Dear Mr. Hawkinson,
On behalf of the Board of Education, administration and the entire school staff of Elementary School District 159, I would like to extend my sincere gratitude for your recent contributions to our staff. Please know that each individual staff member of the district received your offering of the oil change and the donation of the Panera gift card as well as communication from my office explaining the reason for the gift.
The response received by my office from the various staff members has been overwhelming as they rarely receive this type of generosity from as outside vendor or community member. The work in our schools often goes unnoticed and is, at times even taken for granted. For an individual such as you, and your company, to share your convictions and thanks to those who work with families and children of our communities has a profound and lasting impact on those who have received it.
We, as a school district, are fortunate to have the quality relationships with businesses such as yours who embrace the value of education and the work that talks place in our schools.
I look forward to developing this relationship in the future in an attempt to improve outcomes for the children we serve in the communities we serve.
Again, thank you for your thoughtfulness and keeping Elementary School District 159 in mind.
Respectfully,
Barbara Suggs Mason
Superintendent of Schools
---
Past Events
I Brother II Another Male Mentoring Achievement Program
On Thursday, February 15th, 2018 mentees from Colin Powell Middle School's I Brother II Another, Male Mentoring Achievement Program attend the Chicago Auto Show as a gift from Bob Hawkinson of Hawkinson Kia in Matteson, Illinois. The event was a segment of an automotive educational series sponsored by Hawkinson Kia.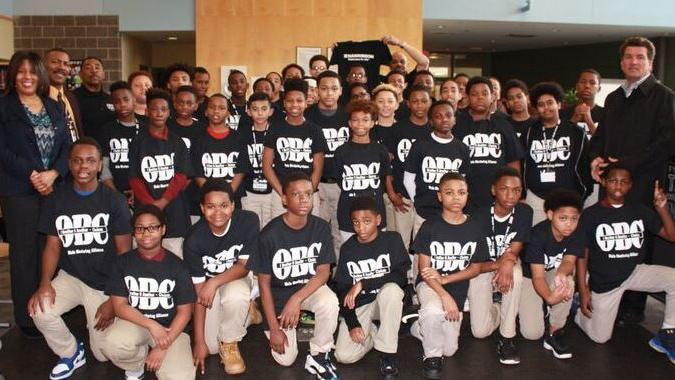 Antibullying Campaign
Hawkinson Nissan and Kia partnered with Matteson School District 159 in the support and the prevention of Anti Bullying. Jesse White & The Jesse White Tumblers were there to perform and support the event along with the school administration, staff, and students. Bob Hawkinson (owner of Hawkinson Nissan & Kia, Barbara Mason (Superintendent), Daniel Thompson (Director of Pupil Services) and Jesse White of the Jesse White Tumblers show off the winning design of the Annual CPMS Bullying Prevention T-shirt Contest. Hawkinson Nissan & Kia has supported the 2nd annual CMPS Bulling Prevention T-shirt Contest and Bob Hawkinson along with the Principal of CMPS Kim Johnson present the winning t-shirt design to the student body and lucky winner.
The Great 8K Race
Thank you to all who ran & walked in the Matteson Community 8k race we sponsored on June 29th! Let's continue to support the Ronald McDonald Houses of Chicago's Charities!
Chillin' & Grillin'
Teacher Appreciation Events
Homeless Dog Fostering
Customer Care Car Clinics
Supports & Donates to causes – Cystic Fibrosis Foundation
Scholarships – Knox College
Supports Local Sports Organizations
Food Pantry Drives for Local Food Pantries
Christmas Toy Drives for Local Churches
Coat Drives for the Homeless in Honor of our Veterans